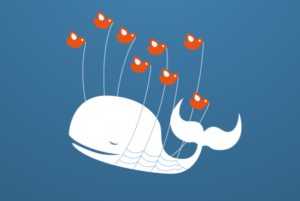 I can't remember exactly why I joined Twitter. It probably seemed like a good idea at the time. I've been on that website in one form or another since 2009, mostly to lurk behind locked accounts, but in October 2015 I decided to start tweeting for real. I was partway through my library degree, I had recently begun my first job in a library (albeit in an admin role) and I think I was feeling somewhat isolated. I'm sure my lecturers mentioned Twitter was where all the library conversations were happening. So I decided to join in.
Hello Twitter! Doing my own PR is hard. Excited to start following others in the library and info. science field! But first, a pot of tea.

— Alissa M. (@lissertations) 25 October 2015
Still #onbrand after all these years.
(For those wondering where my handle came from: I think I spotted someone else's typo somewhere and ran with it. People address me as 'lissertations' all the time. I have no issue with it. ?)
Three-and-a-half years and over 14,000 tweets later, I'd like to think it was worth it. Saying 'I have learned so much from other people on twitter' feels hollow. It has completely transformed my ways of seeing and thinking about the world, about librarianship, about our past and our future. I've read so many insightful articles, posted by so many incredible people. I thought I had a handle on how the world ought to work. Boy, was I wrong.
Twitter has long been touted as the social network of choice for library and information workers, but different people use it in different ways. You've got your lurkers, your occasional users, your influencers, your trolls, your personal brand maintainers, your organisational accounts that shitpost more often than they realpost, your crossposters from Linkedin or Instagram, your 'I only tweet at conferences' types, your backchannellers, your agitators, your real people, your fake people, your twitterbots. I probably fall into several of those categories, but above all else I try to be honest online. I say what I mean and I mean what I say. I have always been an opinionated introvert, but too often the opinions can get lost in IRL networking situations because people are hard and scary. Twitter has helped me to network and communicate with an audience that doesn't need to know I'm an introvert. For me, it's the perfect megaphone.
I am acutely aware that at this point I basically owe my career to this platform. Because of Twitter, thousands of people know who I am, hundreds of people have read my blog posts or heard me speak, dozens of people have met me at conferences, a handful of people have become my closest friends, and at least two people have offered me employment. I absolutely would not be where I am today if it weren't for being on Twitter. My presence there has helped me get a foot in the door, at a time when breaking into the library industry is harder than ever.
And yet I have achieved this through somewhat unconventional means. We've all read articles like '15 Twitter Tips for Librarians' and 'Top tips for using social media for professional networking'. I'm pretty sure I've done everything these articles tell you not to do. I don't use a picture of myself as my avatar (and never will), I seldom use hashtags, I have no social media strategy besides 'these are my opinions today', I follow whoever I want and not who the 'influencers' are, I tweet about all sorts of non-LIS topics (principally environmentalism), I blur the line between 'professional' and 'personal', and I overshare all the damn time.
That's not to say you should necessarily follow my lead, or that the above articles are bad. The advice in them is simply not to my taste, with one major exception: I absolutely adhere to Kate Davis' rule of 'Don't retweet without reading (unless you make it clear you haven't read it yet)'. In this era of abundant bullshit, we have a responsibility as information professionals not to share or spread harmful, inaccurate or offensive content. All our retweets are endorsements. If I share something, I am sending a message that I vouch for its integrity. I want my word to mean something, both online and off.
Because I have become such an outsized Twitter Personality™, which I'm not sure resembles my actual personality all that much, I sometimes feel obliged to keep tweeting and maintaining a presence, even when I feel I have nothing to say. I have also found myself composing tweets in my head before I've even reached for my phone, rearranging an anecdote for maximum likes, retweets and dopamine hits. It's all a bit sad, really. Aside from an extremely private Mastodon account, Twitter is the only social media I have. It's easy to develop a certain tunnel vision when you're on the site for too long, mindlessly scrolling because it feels weird not to. It's easy to be a bit too online.
Some of you might be unsure about joining Twitter, considering most people these days associate it with a certain American president. I want to be clear: most of Twitter is an absolute binfire. It's abhorrent. It's a cesspool. It's home to some of the worst people on the entire internet. But library twitter is different. It's full of people who are passionate about libraries, having the best and most urgent conversations, sharing the most important ideas, making the most fruitful connections. You don't need to be #onhere as often as I am in order to get something out of this platform. Make Twitter work for you, not the other way around, and it can help you do incredible things.