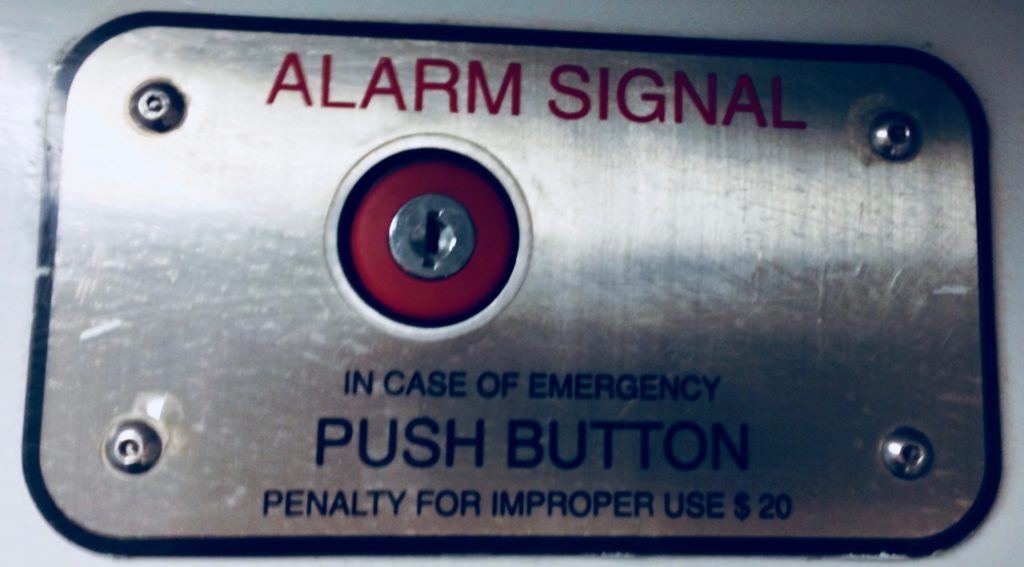 Being a known article-hoarder, I was inspired recently to start cleaning out my piles of collected internet writing (I would not deign to call it an 'archive', it's far too poorly organised). I've been posting some of the best articles to twitter using #emptythepocket, but each article's presence in the collective consciousness of my followers is brief, and some articles deserve a longer digestion period.
Inspired by Hugh Rundle's Marginalia series, here is a selection of articles I read—in this order—on the train to Melbourne. (Where possible I avoid flying, because it's bad for the planet and also highly unpleasant.) It's a nice summary of my reading interests: critical cataloguing, psychogeography, writings from friends, human ecology, and a great big rant about librarianship, because I love it and also hate it. So much.
Can walking be a feminist act? / Anna Chilvers, Caught by the River
This was a great piece on the fear felt by women walking the countryside, walking after dark, walking alone. We are afraid not of the unknown, but of known dangers—not of the wilderness, but of men. I was immediately reminded of the Lone Women in Flashes of Wilderness project by Clare Archibald, as well as the zine A short nightwalk through Lyons from Saorsa Free Press (which may or may not be a side project of mine).
17 Days in Malaysia, Part One / Andrew Finegan, Bibliotheque Bound 
I'd been following the goings-on at the 2018 IFLA conference on twitter (plus the occasional culinary delight) but I enjoyed the first part of Andrew's longer-form wrap-up of his sojourn in Singapore and Malaysia. Didn't envy him the tropical weather, though.
The New Ecological Situationists: On the Revolutionary Aesthetics of Climate Justice and Degrowth / Aaron Vansintjan, Never Apart
Aaron co-edits Uneven Earth, an environmental justice blog. He writes for Never Apart at the intersection of psychogeography and climate change nihilism, two particular interests of mine, and does so with grace and depth. The absurdity of most environmental action (no, you can't just 'shut down' a power station) contrasts with an acknowledged need to completely transform our growth-minded society, if we are to survive. Here I first met Andre Gorz's principle of décroissance, which has resonated with me deeply. (I'm also a big fan of his 'cars are bad for everyone' manifesto from 1972.)
Mat Santamouris: time to make buildings heat-safe. Now. / Dante Terzigni, The Fifth Estate
A quick read on the need for urban planners to ensure their buildings can withstand hotter temperatures, though talk of influencing the design of the new airport in Western Sydney 'to increase climate change mitigation' elicited a scoff. You want to mitigate climate change? Don't build another freaking airport! Don't fly! (She says, writing this post on a train because she's given up flying) Don't build the infrastructure to support atmospheric pollution on a global scale and then plant some trees around it! Climate change doesn't work like that!
On truth in cataloging / Shanna Hollich, Shanna Makes
This is one of the best cataloguing pieces I've read in a long time. It's everything I wish I'd said to Gordon Dunsire at ACOC. '[A]nyone who thinks "cataloging is the pursuit of truth" needs to come down off of their pretentious high horse and realize what cataloging truly is: a means of collecting and describing various pertinent information, data, and metadata about an object in a library collection […] to aid patrons and staff in finding materials.' From 2015, it's still a very hot topic in cataloguing with the reversal of the 'fictional entities as authors' rule in the new RDA. Thank you, Shanna. You are awesome, and this piece is amazing.
UX from a Technical Services Point of View / Shelley Gullikson and Emma Cross, Access Conf 2017 (Regina, Saskatchewan, Canada)
Another happy confluence of two topics close to my heart: user experience and technical services (which ought to be spoken about together far more often). To me, this paper screams 'tech services! you're doing it wrong!!'. Our cataloguing isn't meeting the needs of users. Our systems aren't surfacing what users will use to judge the usefulness of a record. (RDA is useless here! Subject headings are of minimal importance!) People use keyword search almost exclusively. Our info retrieval paradigms MUST adapt to this + present the most useful info first.
I was intrigued by the reactions to the UX study from tech services staff vs. the department head. I am on both sides: keyword searching is not a bad search, BUT it is not harnessing the intricate subject taxonomies that cataloguers have spent decades building, and will only skim the surface of records. (I mentioned this on my episode of Turbitt & Duck, and Karen Coyle has written on this extensively.) I do not believe in telling users that keyword searching is 'wrong', but we need to build our systems to better address the current deficiencies in keyword search. (Note I do not say 'pressure our vendors to build our systems'. If we want anything done properly we're gonna have to do it ourselves. And we should be doing it ourselves.)
'Our students do their research online. Technical Services staff make decisions that affect how library resources are found online. So they are perfectly positioned to improve the user experience of our students.' Say it with me: technical services is outreach!
Looking for Lorca / Steven Reese, Panorama Journal 
On the quest for the tomb of Federico García Lorca, a famed Spanish poet killed by nationalists during the Spanish Civil War, and whose remains have never been found. It deftly wove several threads together—on how we gain and lose identities as we travel; on our presence inside the shell a name creates for us (for naming 'is like a kind of death'); on Spain's national reckoning with its fascist history, and the legislation of memory. I had never heard of Lorca or his poetry, but now I'm keen to read more.
Contextualizing the "Marketplace of Ideas" in Libraries / Nailisa Tanner, Journal of Radical Librarianship 
I was super looking forward to this article but found that Pocket hadn't saved it properly, so I had to wait for the next train station (ergo mobile reception) to redownload. I napped for an hour, then read this article, and I'm glad I napped first—it's quite heavy reading, but absolutely worth it.
Defenders of intellectual freedom in libraries often use the phrase 'marketplace of ideas', which 'evokes the image of a process in which rational consumers choose from among the ideas presented to them in an environment of unrestricted competition. In this line of argument, it follows that truth and reason will emerge automatically'. Now, we have all met library users. We all read the news. We all know that this does not happen. So why do we continue to structure our libraries as if this will happen?
The week of this trip ALIA launched their newest FAIR campaign, 'Truth Information Knowledge (TIK)', positing librarianship as a trusted profession. Sigh. I've written on this misplaced trust before, as have plenty of others. How committed are we to enforcing the Enlightenment?
Librarians upheld segregation. Librarians upheld homophobia in our classification and catalogues. Librarians have been historically complicit in reasons to not be trusted. Do NOT trust me just because I'm a librarian. https://t.co/TAyv1Zh8Qy

— Thomas Peach (@ThomasPeachLib) 4 July 2018
Various forms of liberalism posit that Truth will out, but a market-based mechanism brings about precisely the opposite outcome, that the prevailing View is that which best exploits the market conditions. Libraries are in a position to set those market conditions—and so influence the outcome. Is it (or is it not) in accordance with our professional ethics to set the scene for a flourishing of ideas that grow our society, not seek to tear it apart?
---
I hope you enjoyed this #emptythepocket roundup as much as I enjoyed sitting on a train for six-and-a-half hours compiling it. Perhaps next time I hop on a train there'll be another one…