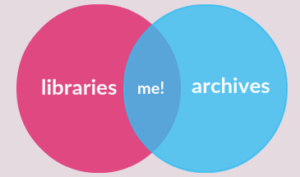 How the tables have turned!
When I posted my last blog entry a few weeks ago, I had no idea just how much attention it would get from the GLAM community, both in Australia and abroad. Some responders were in enthusiastic agreement, while others offered differing views. I think I hit a nerve, to be honest.
If I'd known beforehand how widely the post would be read, I probably would have written it a lot better. I was going to clarify a few points but, hilariously, something came up in the meantime that renders the article largely moot!
Finding myself between jobs and not expecting to secure employment anytime soon, I decided to fulfil a long-held dream of visiting Scotland, the land of my ancestors. If you haven't been, go. It's an amazing country with a fascinating history and proud, welcoming people. Surprisingly, the thing I missed most about Australia was a variety of fresh fruit and vegetables (my regular haggis consumption not quite cutting it, vitamin-wise). I'd applied for jobs before I left, of course, but figured I had no hope and resolved to enjoy my holiday.
While I was overseas, and to general astonishment, I received an email offering me a job with a local heritage library upon my return to Australia. I was so surprised I accepted on the spot, but honestly no amount of pondering would have changed my mind. I've now been back in the country and on the job for a few weeks, giving me a chance to evaluate what I've found myself doing all day.
'Why can't I do both?' I asked the internet, plaintively. Well, now I am doing both. Our collection includes books, journals, archival manuscripts, ephemera, maps, plans, AV material and much else besides. I do reference, acquisitions and cataloguing, and will eventually be doing archival appraisal and digital preservation (yay!). No two days are the same, and I'll never be short of work. And no, the irony of it all is not lost on me.
Do I consider myself a librarian or an archivist, then? Well, my email signature says 'heritage librarian' and my workplace says 'library', but with so much of our collection being original materials and manuscripts there's plenty of crossover. It's worth noting that the advert for this position invited those with ALIA and/or ASA qualifications to apply, which isn't something I had seen before. If asked, I probably would respond with 'heritage librarian' and explain what that involves.
I stand by the assertion that those who consider themselves solely 'librarians' or 'archivists' are less likely to cross-pollinate with other disciplines (though I admit to having no empirical evidence to back this up) and I still think that the GLAM sector as a whole could really benefit from greater intermingling and sharing of ideas. But right now I'm stoked to have been given such an incredible opportunity. I look forward to wowing you all. 🙂